Kin Camp Coordinators
Kerstin S. & Melissa B. 
Kin Career Fair Coordinator
Alex T.
Kin Formal Coordinators
Angelina K. & Joanna L.  
Kin Games Captains 
Cody S. & Jon K.
Rec Sports Coordinators
Karmen L.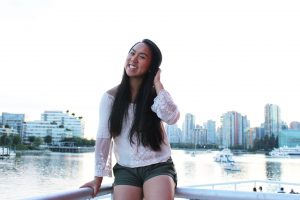 Hey there, I'm Karmen! I'm honoured and super duper excited to be one of your 2016-2017 KUS Sports Rec Coordinators along with Nikol. With this year being my first year at UBC, in the past few weeks I have already fallen in love with UBC Kin and the exuberant passion, sense of community, enthusiasm and spirit that radiates from it. Having previously worked with young children and kids with disabilities, I truly see sports as a special and powerful tool to progress as a community. A little bit about me, even though I spell my name with a K, some of my favourite things start with a C. This includes chai tea, chocolate, Christmas, cats and colourful graphic designs. Some of my favourite sports include volleyball, soccer, handball, hiking and cross country, but most often you can find me running around the school or running around the track. I passionately love life and I'm always excited for something. I'm pumped to share my love for sports with this position and I cannot wait to see what this year has to offer. I believe in a thing called Kin!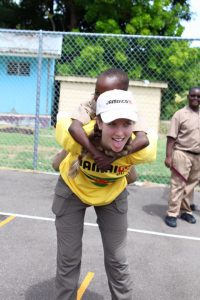 Nikol G.
Hi guys! My name is Nikol and I am going to be one of your KUS rec coordinators for this year! I just wanted to write a little something about myself so that you guys can get to know me a little bit better!
I'm in my first year of Kin and I'm taking the health science stream to hopefully end up in med school and become the next Cristina Yang (slightly joking but not really). I have played both volleyball and basketball at a regional and/or club level throughout my high school years and I'm currently playing rec volleyball at UBC. I've also done other sports such as ultimate, swimming and figure skating. Sports is life, sports is love for me just as I can imagine it is for most of you as well! Some fun facts about me that are totally unrelated to kin or sports are that I can speak fluent Russian, I was born in Israel, and that I travelled to Jamaica during spring break where I helped build a computer classroom for a primary school! I'm really excited to be working alongside Karmen to be your guys's rec coordinators for this year and if you guys have any questions regarding any of the rec teams or events please feel free to contact either me or Karmen whenever you need! And remember everything is going tibia okay
Merchandise Coordinators
Rachel H. 
Website Coordinator
Dayton T.  
Kin Week Coordinators
Kathryn S. & Alison M
Rum N' Egger Coordinators
Max G. & Megan M.